Największa sieć agentów nieruchomości z dostępem do ofert "off market" i unikalnej bazy klientów poszukujących
Wyłączność
Zawsze aktualne, sprawdzone, pewne oferty prowadzone przez profesjonalnych pośredników.
Tylko w MLS
Oferty off-market, czyli takie, których Ty ani Twój klient nie znajdziecie poza MLSem.
Baza cen transakcyjnych
Masz dostęp do bazy cen transakcyjnych, zdjęć oraz opisów sprzedanych i wynajętych nieruchomości.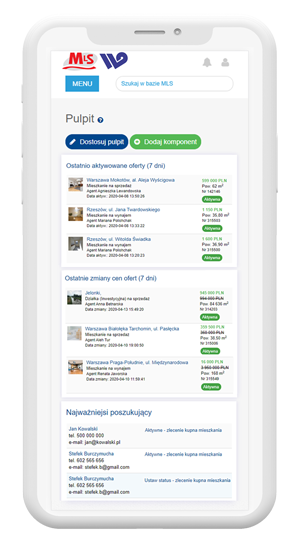 Klienci poszukujący
Dodaj klienta poszukującego i otrzymuj powiadomienia o nowo dodanych ofertach, które spełniają jego kryteria.
Eksport ofert z MLS
Włącz eksport wybranych / wszystkich aktywnych ofert z MLS na Twoją stronę www.
Szybkie dodawanie ofert
Twój CRM nie jest zintegrowany? Nie przejmuj się - dodanie oferty zajmie Ci mniej niż 2 minuty.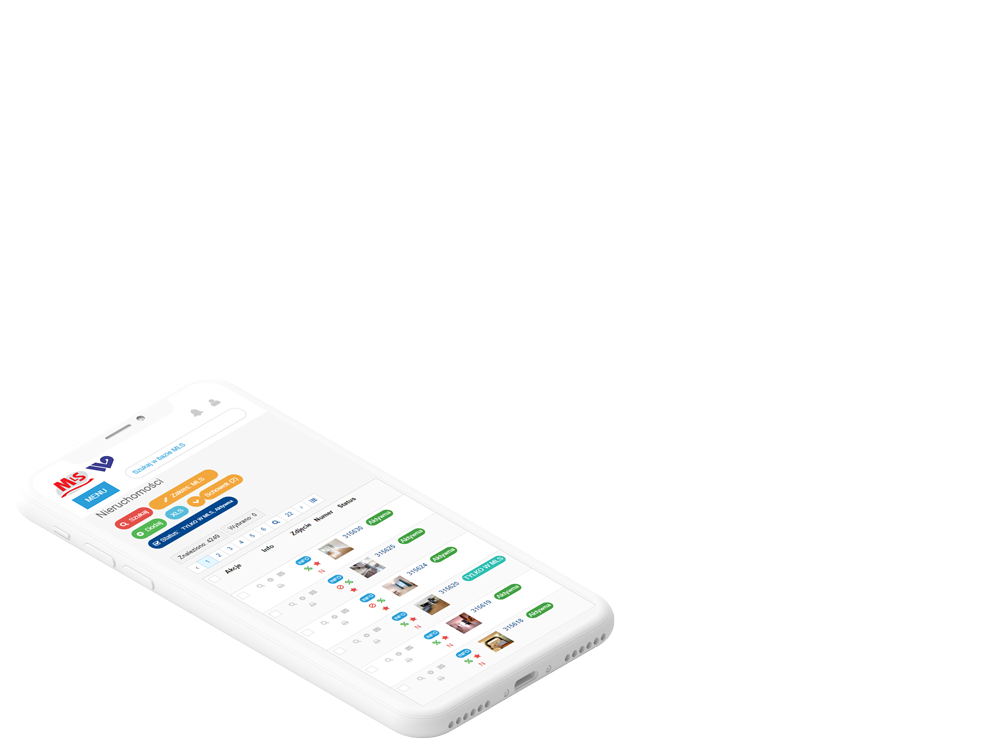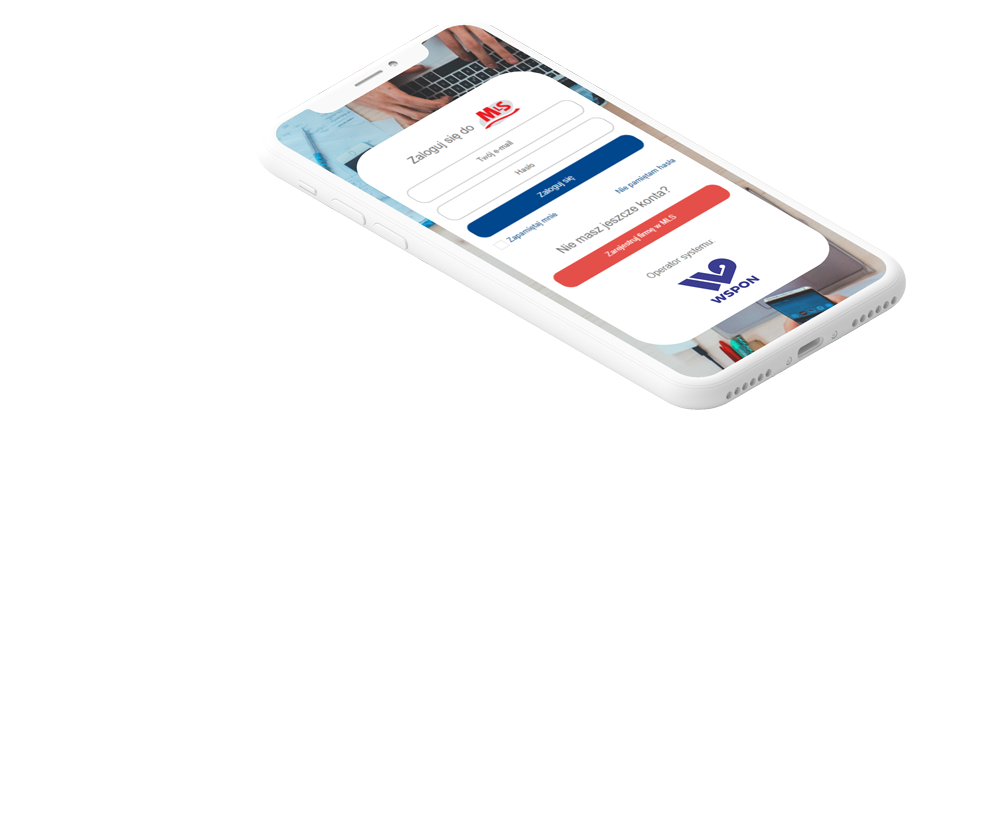 Dlaczego potrzebujesz MLSu?
WYŁĄCZNOŚĆ I Twój model biznesowy to wyłączność? System MLS to promocja oraz większe zasięgi Twojej oferty. W MLS znajdziesz tylko aktualne i unikalne oferty.
WSPÓŁPRACA I Współpracując w MLS sprawniej działasz. Twoje nieruchomości polecane są przez wszystkie biura.
AUTOMATYZACJA I Dodaj klienta poszukującego, a zautomatyzowany system skojarzy dla niego sprawdzone i unikalne oferty.
Dołącz do Nas i bądź częścią prestiżowej grupy pośredników nieruchomości z całej Polski!
MLS to tylko oferty na wyłączność
Większość nieruchomości w MLS to oferty sprzedaży
Taka część ofert w MLS to nieruchomości do wynajęcia
MLS to funkcjonalność, niezawodność i bezpieczeństwo użytkowania
Rejestracja
Uzupełnij swoje dane w formularzu rejestracyjnym
Uzupełnienie formularza rejestracji i akceptacja zasad MLS to pierwszy krok do uzyskania dostępu do systemu
Aktywacja
Lokalny koordynator skontaktuje się z Tobą
Lokalny koordynator skontaktuje się z Tobą i przedstawi Ci zasady, którymi się kierujemy, a następnie otrzymasz maila z linkiem aktywacyjnym Twój dostęp do MLS.
Dostęp
Korzystaj z pełnego dostępu do systemu MLS
Podczas pierwszego logowania skonfiguruj system ze swoją skrzynką mailową, dodaj użytkowników (agentów) oraz wszystkie swoje oferty na wyłączność.
MLS to największa sieć agentów nieruchomości, pracujących na wyłącznościach. Powstał w 2002 r. pod merytorycznym nadzorem Warszawskiego Stowarzyszenia Pośredników w Obrocie Nieruchomościami.
W lutym 2019 roku MLS stopniowo rozszerzał swój zasięg o kolejne największe regiony Polski. Do tej pory zaufało nam ponad 500 firm. Nieustannie pracujemy nad rozwojem funkcjonalności systemu, dostosowując MLS do potrzeb pośredników.
Poznaj osoby odpowiedzialne za rozwój systemu MLS
netto / m-c
Biura należące do stowarzyszeń zrzeszonych w PFRN
Polska
netto / m-c
Biura z siedzibą w regionach lokalnych Koordynatorów
Kraków, Poznań, Katowice, Łódź, Wrocław, Bydgoszcz, Białystok, Olsztyn
netto / m-c
Biura niezrzeszone w PFRN i spoza regionów Koordynatorów
Polska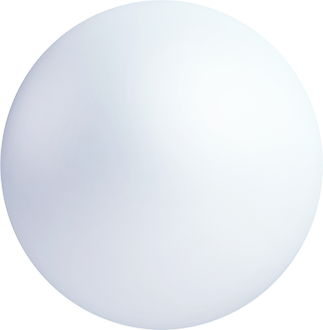 Hanna Morawska
Bardzo doceniam technologiczne wsparcie współpracy, dlatego moim zdaniem MLS to must-have każdego profesjonalnego agenta.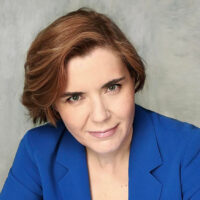 Rafał Szelenbaum
MLS łączy skuteczność, prostotę użytkowania i szybszą sprzedaż nieruchomości, co przekłada się na transakcje.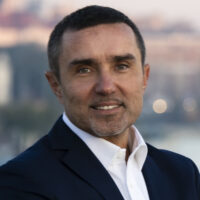 Tomasz Kostrzewa
MLS pozwolił mi sfinalizować kilka bardzo korzystnych transakcji. Cenię bazę cen transakcyjnych oraz możliwość promocji ofert off-market dzięki opcji "Tylko w MLS".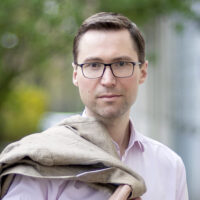 Joanna Zaremba
MLS jest dla mnie podstawowym narzędziem w codziennej pracy, od niego zaczynam poszukiwanie ofert dla swoich Klientów.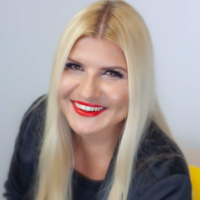 Szymon Szulc
MLS to profesjonalizm i współpraca. Podstawowe narzędzie każdego szanującego siebie i klientów pośrednika.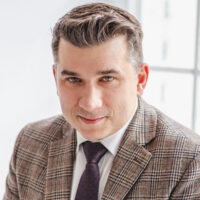 Krzysztof Rożnowski
Jestem w MLS ponieważ nieruchomości moich klientów mogą zainteresować inwestorów z całej Polski.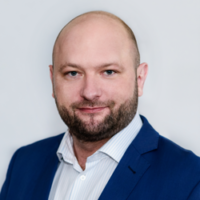 Joanna Jurasz
MLS jest dla mnie elitarnością, to nowe standardy pracy, jakość, etyka pośredników, zaufanie do pośrednika.